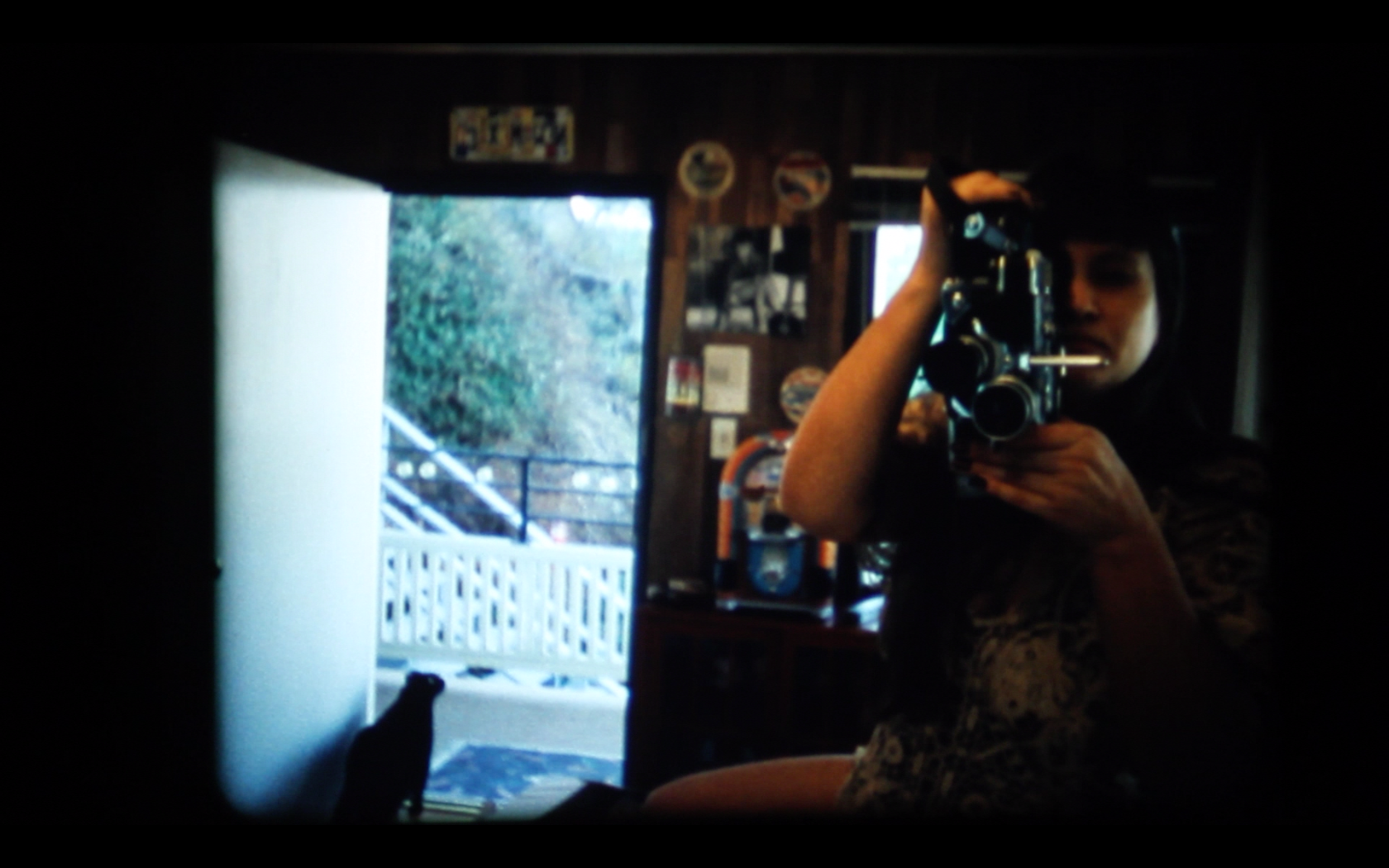 Eve-Lauryn Little Shell LaFountain (Turtle Mountain Chippewa) is a Los Angeles based multimedia artist and educator. Her work explores identity, history, indigenous futurism, feminism, ghosts, magic, and her mixed Native American and Jewish heritage through lens based media and installations. She is a Sundance New Frontier and Indigenous MacArthur Fellow, and has received support for her work from the Mike Kelley Foundation, the Andy Warhol Foundation, and was an Interactive Storyteller for Tribeca Film Institute. Her work has shown in several venues and festivals around the world including the Venice Biennale, the Autry Museum, Walker Art Center, the Museum of Contemporary Native Arts, Los Angeles Filmforum, the Smithsonian Museum of the American Indian in New York, and ImagineNATIVE FIlm + Media Festival. Her first solo museum exhibit was mounted at the Museum of Contemporary Native Arts in the fall of 2015. In 2010 she was the first photographer to win the Santa Fe Indian Market Best of Classification award. LaFountain was born into a family of artists and raised in Santa Fe, New Mexico. She received her Bachelor of Arts from Hampshire College in 2008, and a dual Master of Fine Arts from the California Institute of the Arts (CalArts) in Photography & Media and Film & Video in 2014. She is a member of the operational co-op at the Echo Park Film Center where she teaches filmmaking classes and curates screenings. LaFountain teaches Experimental Filmmaking at Otis College of Art and Design, and also works at CalArts as the Senior Film/Video Admissions Counselor and as special faculty teaching alternative photographic processes.
EVE-LAURYN LITTLE SHELL LaFOUNTAIN, MFA
b. 1986 in Santa Fe, New Mexico
Lives and works in Los Angeles, California
Enrolled tribal member of the Turtle Mountain Band of Chippewa Indians
EDUCATION
2014 Dual Master of Fine Arts California Institute of the Arts (CalArts), Valencia, CA Photography & Media and Film & Video 
School of Art Thesis Shekhinah/Manidoo Giizis (Spirit Dwelling (Hebrew)/Spirit Moon (Ojibwe)
School of Film/Video Thesis Conversation Pieces: A Swan Song
2008 Bachelor of Arts Hampshire College, Amherst, MA
Self designed concentration in Experimental Film, Photography, and Native American Studies
Thesis It's Never Too Late to Be a Cowgirl
CURRENT PROJECT
Re/DisLocation
Support provided in part by the Sundance New Frontier Lab and MacArthur Foundation 
A multimedia and virtual reality experimental documentary project investigating the history and legacies of the 1956 Indian Relocation Act through the personal story of the family moving from the Turtle Mountain Chippewa Reservation to Los Angeles.
TEACHING AND RELEVANT WORK EXPERIENCE
2020 - Present
Part Time Faculty at Otis College of Art and Design, teaching Experimental Filmmaking in the Fine Arts Department for both BFA and MFA level students
2019 - Present 
Advisory Committee Member for Indigenous Now Art @ Tongva 
Curatorial and best practices for indigenous community involvement for the City of Santa Monica Department of Cultural Affairs annual event celebrating contemporary Indigenous art
2016 - Present 
Senior Film/Video Admissions Counselor CalArts Office of Admissions
Admissions Counselor for BFA and MFA live action programs in the School of Film/Video at the California Institute of the Arts. National and international recruitment for all programs, manage portfolio reviews, faculty scheduling, yield and enrollment, applicant liaison, working closely with faculty, program directors, and deans, advertising, communications to recruit and enroll incoming students.
2015 - Present     
Special Faculty CalArts School of Art Alternative Photographic Processes
2009 - Present 
Instructor, Curator, Projectionist, Co-op Member  Echo Park Film Center
Youth Courses - Building Blocks: Introduction to Super 8 and Hand Processing Film, City of Angels: Documentary Filmmaking, Origins: Indigenous Los Angeles and Expanded Cinema, The Sound We See: A Los Angeles City Symphony on 16mm film, WORK: Documentary Filmmaking
Filmmobile Community Workshops - Stop Motion Animation for Pre-K and elementary age children at Jenesse Domestic Violence Shelter, This Is Me: Films by Venice YouthBuild Students, Direct Animation Workshops at various locations across Los Angeles
Adult Courses - Introduction to 16mm and Super 8 Filmmaking, Eco Film Processing, Handmade Pinhole Camera Workshop, Digital Post Production, Introduction to Documentary Filmmaking
Senior Courses - Cinematic Storytelling
2015 - 2016 
Film/Video Equipment Coordinator CalArts School of Film/Video
Coordinated scheduling of equipment for all School of Film/Video classes and productions, updated, maintained, and fixed equipment including cameras lenses and support ranging from 16mm film to digital cinema, sound recording devices, grip and lighting gear, managed and trained a  staff of work study students
2013 - 2014 
Co-Organizer and Graduate Instructor CalArts School of Art
Collaborations: Feminist Process and Problems of Social Practice: Feminist Practice
2012 - 2014 
CalArts Student Instructor CalArts Community Arts Partnership Black and White Photography
2012 - 2014 
Graduate Teaching Assistant CalArts BFA Photography Foundation Seminar and Critique (Professors Ashley Hunt, Andrew Freeman, Sune Woods)
Experimental Film Techniques (Professor Betzy Bromberg)
Alchemical Cinema (Professor Charlotte Pryce)
Foto and Film (Professor Billy Woodberry)
History of Photography (Professor Sally Stein)
2009 - 2011 
Operations Manager Echo Park Film Center     
Projectionist, curator, technical advisor, equipment and library coordinator, grant writer, store manager
2006 - 2008 
Head Facilitator and Lead Instructor Youth Action Coalition Video Vanguards Socially conscious filmmaking for youth of color and their allies
2006 - 2008 
Undergraduate Teaching Assistant Hampshire College    
Handmade Films (Professor Bill Brand)
Introduction to Media Production (Professor Penny Lane)
Topics in Media Production: The Walking Arts (Professor Robert Seydel)
FELLOWSHIPS / RESIDENCIES
2018 Sundance Institute Native New Frontier Fellow, Los Angeles, CA
2015 REEF Maker City LA Artist in Residence, Los Angeles, CA
2014 Tribeca Hacks NDN Country Storyteller Santa Fe, NM
2013 TIE: Alternative Measures Artist Run Film Lab Conference CalArts Fellow, Colorado Springs, CO
2013 Flaherty Film Seminar Fellow, Hamilton, NY
2008 ABC Disney Film Workshop Fellow Institute of American Indian Arts, Santa Fe, NM
2007 Handmade Film Institute, Ward, CO
2006 Smith College and Institute of American Indian Arts Archival Intern and Cultural Liaison for the project of archiving and digitizing the Yeffe Kimball slide collection in preparation of For the Love of His People: Photography of Horace Poolaw at the Smithsonian Museum of the American Indian in Washington, D.C., Santa Fe, NM
GRANTS / SCHOLARSHIPS
MacArthur Foundation and Sundance Institute Native New Frontier Fellowship
Inaugural Mike Kelley Foundation Artist Project Grant
Tribeca Hacks NDN Country Storyteller
Artist Project Grant from Los Angeles City Councilmember Mitch O'Farrell
Andrew Mellon Foundation Grant
Andy Warhol Foundation Artist Grant
CalArts Faculty and Staff Project Finishing Grant, Diversity Grant, Student Affairs and Student Council Special Project Grant, Special Dean Grant from School of Art Dean Tom Lawson, Special Dean Grant from School of Film/Video Dean Steve Anker
Adam Beach Foundation for Native Arts Scholarship
American Indian Graduate Center Fellow
Lita Odell Scholarship
CalArts Grant and Scholarship
Hampshire College Scholarship
Turtle Mountain Band of Chippewa Indians Tribal Scholarship
COLLECTIVES AND ORGANIZATIONS
Indigenous Now Advisory Committee
Echo Park Film Center Operational Co-Op Member
Optical Track DJ on Dublab Radio
CENTER for Contemporary Photography board member
Working Women Artists
Siphonophore Feminist Art Collective Member
Cassandra Performance Group
SELECTED PROJECTS, EXHIBITIONS, FILM SCREENINGS, AND PANELS
2019
Autry After Hours Installation and performance at the Autry Museum, Los Angeles, CA
Official Selection at Images Festival Smude Series, Toronto, Canada
Advisory Committee for Indigenous Now Art @ Tongva Park for the City of Santa Monica
Echo Park Film Center Screening Curation Anachronistic Anomalies: Moving Image Works by Tom Leeser
2018
Arts in a Changing America Participating artist and CalArts representative, Minneapolis, MN
Hazlo Tu Mismo Experimental Film Lab Encounter Films screened, participated in workshops, CalArts and Echo Park Film Center representative, Mexico City
Sundance Institute Native New Frontier Intensive Lab Fellowship for Re/Dis Location
Non Stop Beautiful Ladies Screening They Told Me Apikaan Means Braid, Vancouver, Canada
Reflections on Chicano Male Unbonded Gallery Talk with Harry Gamboa Jr. Autry Museum, Los Angeles, CA
Indigenous Now Curator of experimental films by contemporary Native American artists commissioned by and screened in the City of Santa Monica and Los Angeles, CA
2017
Dublab Radio DJ on Optical Track a show by the Echo Park Film Center Co-op, Los Angeles, CA
Zohi Gallery Photography from Waabanishimo (She Dances Till Daylight), Santa Fe, NM
Church in the Cliff Awasishkode (Beyond the Fire), analog slide and film projection performance with live sound by Jon Almaraz, Dallas, TX
Winnipeg Underground Film Festival From Sea to See, super 8 film, official selection, Winnipeg, Canada
Radical Film Network Tolpuddle Museum From Sea to See, super 8 film screened in Reason to Scream: New Artist Film and Video, Vintage Mobile Cinema, Dorchester, United Kingdom
The Front Smudge Series, 16mm film trilogy screened as part of Cinema Arcane, New Orleans, LA
Los Angeles Filmforum Anishinabemowin Nagishkodaading, super 8 film, Los Angeles, CA
Blue Rain Gallery Cassandra, photography, Santa Fe, NM
Dallas Medianale Giizis Mooka'am (Sun/Moon Rise) dual 16mm film loop installation, Dallas, TX
D*STAR Paul Brach Visiting Artist Lecture Series panel speaker with Tom Jones and Nancy Marie Mithlo, CalArts, Valencia, CA
Weingart Gallery at Occidental College Video, sound, and photography installation, Los Angeles, CA
Addison Rowe Gallery Waabanishimo and Cassandra, photography, Santa Fe, NM
2016
BLAM Projects curator of Ephemeral Los Angeles: Films by Echo Park Film Center Famiglia, Los Angeles, CA
Current:LA Water Biennial curator of Collaborative Water Films by Echo Park Film Center Filmmakers, Los Angeles, CA
Assistant Director So Wild Music Video by Cassandra directed by Ewen Wright
Echo Park Film Center We Are the Explorers shown on super 8 with Saul Levine, Los Angeles, CA
Echo Park Film Center World premiere of We Are the Explorers, a super 8 film presented as part of Facts Make the Difference, a screening about mysterious New Mexico, Los Angeles, CA
SOMArts selected works from Waabanishimo (She Dances Till Daylight) in Black Salt Collective Visions Into Infinite Archives, San Francisco, CA
2015
Echo Park Film Center Giizis Mooka'am (Sun/Moon Rise) on 16mm, Los Angeles, CA
Occidental College Visiting Artist Performance Awasishkode (Beyond the Fire), 35mm slides, 16mm film and video performance with live sound by Jon Almaraz, Los Angeles, CA
Institute of American Indian Arts Museum of Contemporary Native Art Waabanishimo (She Dances Till Daylight), solo museum exhibition, large format photography, film and video installation Santa Fe, NM
Los Angeles Filmforum From Sea to See presented in Forward to Distant Times: New Visions of the West, Los Angeles, CA
Automata Gallery Giizis Mooka'am (Sun/Moon Rise), dual 16mm projections with sound in A Light In the Dark, Los Angeles, CA
Sundance New Frontier Native Forum at Allied Media Conference panelist, Detroit, MI
Venice Biennale Bon Pour le Coeur (Good for the Heart) and Elderberry, Black Walnut, Oak presented at the Native American Film Symposium, Venice, Italy
Echo Park Film Center From New Mexico with Love, 35mm slide and super 8 film performance with live sound by Jon Almaraz in Art by People in Love, Los Angeles, CA
Last Projects A Celebration of Two Moons collaborative video performance with Bridget Batch in Time Travelers Redux, Los Angeles, CA
Photo LA curator and exhibitor, Los Angeles, CA
Assistant Director Freak Out music video for Mini Mansions directed by Matt Newman
2014
Tribeca Hacks NDN Country Storyteller Developed Nawadiniiwe new media project, Santa Fe, NM
Videofag Smudge Series presented on 16mm in Waiting for the Big One: Film and Video from Los Angeles, Toronto, Canada
Indigenous Fine Art Market Exhibitor, Santa Fe, NM
Lotus Festival world premiere of The Sound We See: An Echo Park City Symphony , collaborative 16mm film project with live sound Echo Park Lake, Los Angeles, CA
Cirrus Gallery Motion Tracking Group Show curated by William Kaminski, Los Angeles, CA
New Works Salon at Echo Park Film Center Conversation Pieces: A Swan Song projected on 16mm funded by the Andy Warhol Foundation, Los Angeles, CA
Davinci Gallery, Los Angeles City College co-organizer of three part conversation series, Feminism Today, Los Angeles, CA
Exploded View Microcinema Smudge Series projected on 16mm for LA Underground, Tucson, AZ
Gallery A402 at CalArts MFA Art School thesis installation Shekhinah/Manidoo Giizis (Spirit Dwelling (Hebrew)/Spirit Moon (Ojibwe), Valencia, CA
Bijou Theater at CalArts MFA Film School thesis Conversation Pieces: A Swan Song 16mm documentary essay film, Valencia, CA
2013
Gallery D301 at CalArts, co-curator and organizer, F4: Feminist Process, Valencia, CA
USC Cinematheque 108 Smudge Series presented in An Evening with Rick Bahto and Echo Park Film Center, Los Angeles, CA
Gallery D301 and Main Gallery at CalArts A Celebration of Two Moons, video and analog  mural photograph made in collaboration with Bridget Batch and Jon Almaraz for 4x4, Valencia, CA
Main Gallery at CalArts Organizer of first ever CalArts Clothesline Project, Valencia, CA
2012
Gallery D301 at CalArts, They Told Me "Apikaan" Means Braid, 16mm film loop for This is All We Have in Common, Valencia, CA
Deep End Ranch What Has Burned I Will Redeem, site-specific installation with mud painting, burned tree, indigenous plants and bones for Site Works group  show, Santa Paula, CA
Roy O. Disney Hall Minglewood Blues, video for Reinvisioning America, Valencia, CA
Gallery A402 at CalArts My Ghost Dance, Scavenged and Bartered, first year solo show, Valencia, CA
2011
Main Gallery at CalArts Anishinabemowin Nagishkodaading (Ojibwe Language Introduction) super 8 film, for The Place from Which One Speaks, Valencia, CA
Rum Gallery at CalArts photography in Femme for All group show, Valencia, CA
Autry Museum American Indian Arts Marketplace Exhibitor, Los Angeles, CA
ImagineNATIVE Film + Media Arts Festival In the Ghost Land, 16mm film presented on video, film festival official selection, Toronto, Canada
100th Annual College Arts Association Conference In the Rockies, handmade 16mm pinhole film presented on video Los Angeles, CA
2009 - 2010
Cinematographer Path of Shadows directed by Joshua Raymond Lee
SWAIA Ford Foundation Expanding the Dialog Roundtable panelist, Santa Fe, NM
Native American Film and Video Festival at the Smithsonian Institute National Museum of the American Indian Lumbini Park, official selection, New York City, NY
2008
American Indian Film Festival Lumbini Park, official selection, San Francisco, CA
Main Gallery at Hampshire College undergraduate thesis show, It's Never Too Late to be a Cowgirl, multimedia installation with photography, film, animation, book arts, and sound, Amherst, MA
2006
Gary Farmer Gallery of Contemporary Art super 8 film Bon Pour le Coeur (Good for the Heart), opening night screening of Native Cinema Showcase, Santa Fe, NM
2005
Amherst Town Hall site specific installation, Amherst, What's in a Name? Looped video projected onto the front of Amherst Town Hall about the town's namesake, Lord Jeffrey Amherst, who was a proponent of ethnic cleansing of Native American peoples, Amherst, MA
ImagineNative Film and Media Arts Festival Bon Pour le Coeur (Good for the Heart) super 8 film, official selection, Toronto, Canada
2004
Santa Fe Museum of Fine Art Invitation artist for group show Soul of the Crew, Santa Fe, NM
Warehouse 21 Youth Arts Center Staff Photographer, Santa Fe, NM
1989 - 2019
SWAIA Santa Fe Indian Market exhibitor and award winner in traditional clothing, ceramics, painting, printmaking, photography, and filmmaking, Santa Fe, NM
AWARDS
Southwestern Association of Indian Art Annual Santa Fe Indian Market
2015 Second Place Digital Photography
2015 Second Place Analog Color Photography
2011 First Place Analog Black and White Photography; Second Place Color Analog Photography
2010 Best of Classification Paintings, Drawings, Graphics, Photography, Printmaking; Best of Division Photography; First Place Digitally Altered Photographic Images; Second Place Mixed Media Monotypes; Classification X Moving Images Best Animation
2008 First Annual Andrew Smith Photography Award; Best of Division Photography; First Place Digital Photography; First Place Analog Black and White Photography; Second Place Digital Photography   
2005 First Place Analog Black and White Photography; Second Place Analog Black and White Photography
2004 Best of Division Photography; First Place Analog Black and White Photography
2009 6th Annual Red Nation Film Festival Best Women Film Project
2009 Ebner Trophy for International Excellence in Photography
2008 Best Cinematographer ABC Disney and Institute of American Indian Arts Film Workshop
2008 Hampshire College Ingenuity Award for creating the first Indigenous students group
2004 Santa Fe Museum of Fine Art Soul of the Crew Juried Show First Place